Our Approach
Looking for florals for your wedding or event? We would be honored to be a part! We have three different paths to take based upon your timeline and budget.
Check out our design tiers below and reach out for availability!
—
01
Full-service & Micro Events
We absolutely love to take on a small handful of full-service weddings and events each year where we design to celebrate the season and location at hand with beautiful, natural florals.
Our events involve a thoughtful and caring process of conversations and design proposals to prepare for a seamless and breathtaking day—peek our work and connect below if you'd like to work with us!
02
À La Carte
We adore simplicity and have a deep value for quality over quantity. If you're planning an intimate wedding or scent, and looking for just a few floral essentials, we have news!
Launching early 2024: our first collection of a few floral items, tailor-made specifically for weddings and events! We'll have bouquets, personals, centerpieces, and bud vases options available in a few pre-set color palettes for effortless online ordering.
Recent Work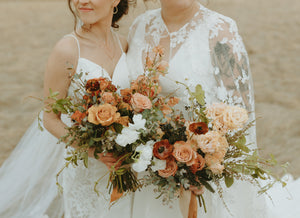 Warm, Earthy & Wild
E V E R G R E E N , C O
A palette of rich textures and tones to warm up a cozy wedding in the mountains.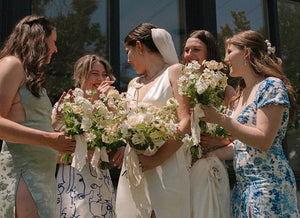 Soft, Romantic & All-Local
D E N V E R , C O
An array of summer's sweet and delicate blooms for a thoughtful celebration.
Let's Start the Conversation!